For live links, click to: riverhouses.org/2019-san-antonio-quarter
Calling all homeschool historians, geographers, artists, and treasure hunters! Here's something new for you to search for this month: the San Antonio Missions National Historical Park "America the Beautiful" quarter from the U.S. Mint:
[Click for image: riverhouses.org/2019-san-antonio-quarter]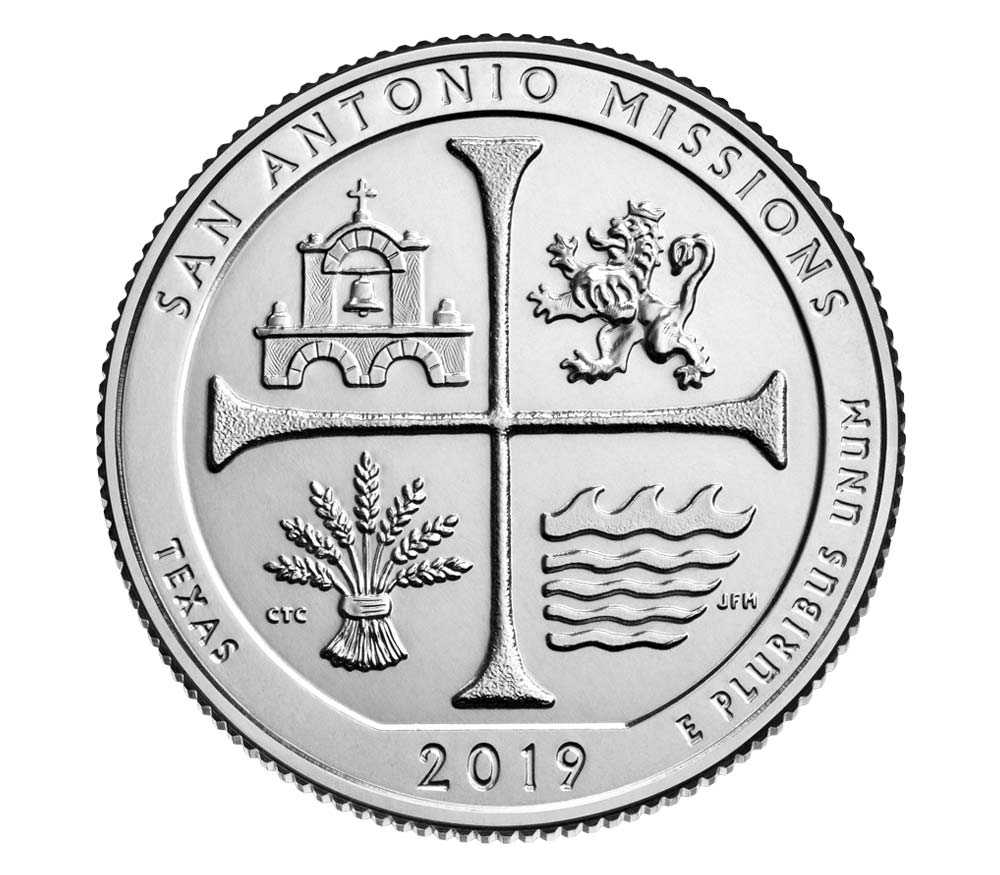 If you're looking for a fun and easy way to include some interesting geographical and historical facts in your homeschool schedule (as well as a little treasure hunting), you can't do better than to keep an eye on the "America the Beautiful" quarters series. This commemorative series began in 2010 and each year five new designs are issued featuring national parks and other historic sites in the U.S. states and territories.
The latest quarter commemorates the San Antonio Missions National Historical Park in Texas, a UNESCO World Heritage Site, and it has just gone into circulation:
"The San Antonio Missions were among the largest concentrations of Spanish missions in North America, established in the 1700s, and helped create the foundation for the City of San Antonio, TX. The construction of aqueducts and irrigation canals (acequias) brought water to the missions sustaining farming and ranching. The missions' toolmaking, carpentry, looming, spinning, and masonry also contributed to the community's ability to be self-sustaining." (U.S. Mint)
The Mint has a remarkably comprehensive set of free lesson plans available for the whole America the Beautiful series — you could make quite an American history course out of them. And the Mint also has a very nice simple album for this series (amzn.to/2D2A3dO) — just the thing to get some educational treasure hunting under way.
(And next up, if you want to look ahead: a quarter for the Frank Church River of No Return Wilderness in Idaho, scheduled for November.)
What numismatical discoveries have you made in your homeschool this week? 😊
❡ Come, here's the map: The America the Beautiful quarters are a great tool for teaching about geography. Locate each park and each historic site in your homeschool atlas (riverhouses.org/books), and spread out your whole collection on atlas plate 35, the map of the entire United States. 🇺🇸
❡ Make it a tradition: Why not pick up an old roll of circulated quarters at your local grocery store or bank each week and invite your students to go through it around the kitchen table. A whole world of historical and geographical discovery awaits them. 💰
❡ Cabinets of wonder: This is one of our occasional posts on the educational value of collections and collecting for homeschoolers. Add your name to our free weekly mailing list (riverhouses.org/newsletter) and get great homeschool teaching ideas delivered right to your mailbox all through the year. 🔎