For live links, click to: riverhouses.org/2019-calendars
SIGN UP: riverhouses.org/newsletter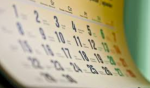 Today is the midpoint of Hercules Term, our summer term in the River Houses. Our four terms — Cygnus, Orion, Leo, and Hercules — divide the homeschool year into four quarters that roughly correspond to the seasons. In many old calendar systems the first day of each term would be called a quarter day, and the mid-point of each term would be called a cross-quarter day.
On this cross-quarter day of Hercules Term we're delighted to make available a new set of printable calendars for the upcoming 2019–2020 homeschool year that will begin in September:
The main calendar covers an assortment of major events and historical anniversaries throughout the year, and the four specialized calendars cover our annual schedules for poetry, astronomy, states and countries, and world historic sites. All five calendars are one-page pdf files, very simple to print and post on your family bulletin board.
These educational calendars are not designed for use with a specific curriculum — they are enrichment tools that can supplement any curriculum (even an open unschooling program), and they provide a light, comfortable, easy structure for your entire homeschool year. Pick one or two or three that strike your fancy, print them out, and follow along with us throughout the coming year.
Please share these calendars widely with all your homeschool groups and friends. When you and I have a calendar in common we have a range of shared experiences in common, and that's what builds community, week by week, month by month, all through the year.
What calendrical events will you be marking in your homeschool this season? 😊
❡ Here, said the year: This is one of our occasional Homeschool Terms & Calendars posts. Add your name to our free weekly mailing list (riverhouses.org/newsletter) and get great homeschool teaching ideas delivered right to your mailbox all through the year. 🗞