The merry month of May has arrived, and May is Bird Migration Month in the River Houses! 🦆
We think bird study is one of the best subjects you can take up in a homeschool environment. It's suitable for all ages, it can be made as elementary or as advanced as you wish, and birds can be found just about anywhere at any season of the year.
But this is the season, and this is the month, when there are more birds moving than at any other time. One of the best ways to give your students a sense of the scale and scope of bird migration is with the wonderful BirdCast website (birdcast.info), sponsored by Cornell University.
Birdcast.info is a daily "weather" forecast, and the weather it predicts is the nightly level of bird migration across the United States. (Did you know that most birds migrate at night? It's true!)
The colors on the nightly forecast maps show the expected intensity of migration across different parts of the country: red is more intense, blue is less intense. Although the seasonal timing of migration is generally governed by the photoperiod (the day-length), local variation in weather conditions can "bottle up" migrants for short periods, leading to heavy days and light days in any given region. Black areas on the forecast maps are zones of precipitation that are expected to block migrants from moving forward on any given night.
One of the most remarkable things available on the BirdCast website is live nightly migration tracking based on nationwide radar observations that see bird movements directly. As sunset moves from east to west across the country, the sky "lights up" with radar echoes of migrating birds — it's quite dramatic.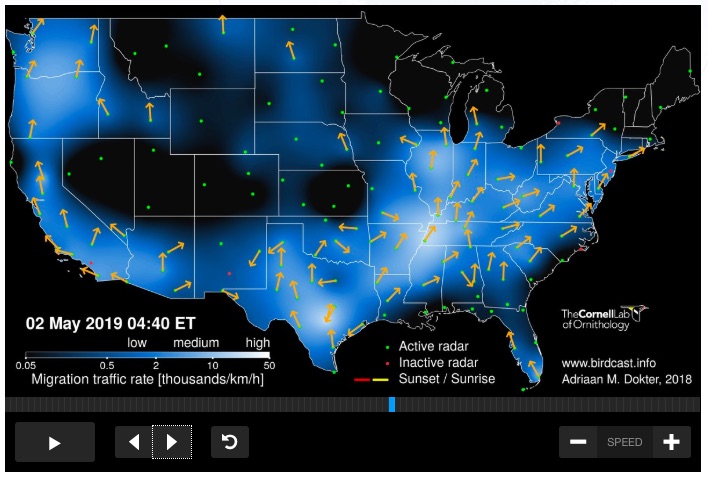 Go to the live migration maps page to see these images in animated form.
Birdcast.info will help you and your students connect what you see in your local neighborhood with the grand pattern of migration that is taking place across the whole continent during this busy month of May.
What ornithological discoveries have you made in your homeschool this week? 😊
❡ Books in the running brooks: Our recommended homeschool reference library (riverhouses.org/books) includes an excellent bird guide that would serve your homeschool well. Many other similar guides are also available — find one that's a good fit for your family and take it with you on all your outings, whether far afield or just out to the backyard. 🦉