Attention all homeschool historians, geographers, artists, and treasure hunters! Here's something new for you to search for this month: the Lowell National Historical Park "America the Beautiful" quarter from the U.S. Mint: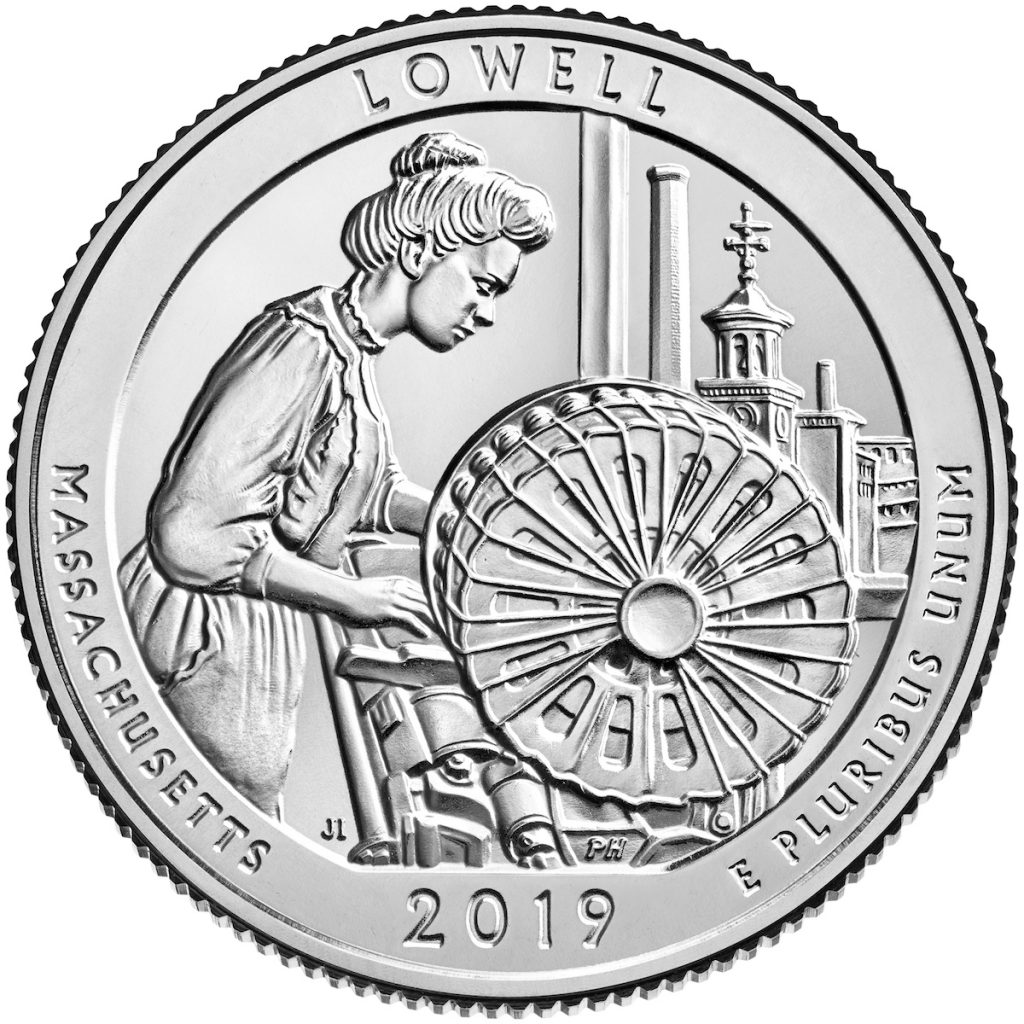 If you're looking for a fun and easy way to include some interesting geographical and historical facts in your homeschooling schedule (as well as a little treasure hunting along the way), you can't do better than to keep an eye on the "America the Beautiful" quarters series. This commemorative series began in 2010 and each year five new designs are issued featuring national parks and other historic sites in the U.S. states and territories.
The latest quarter commemorates the Lowell National Historical Park in Massachusetts, and it goes into circulation this month:
"The Lowell National Historical Park Quarter commemorates the role of Lowell, MA in the Industrial Revolution, infusing the human story in addition to the industry processes and cultural environment at the time.

The era was defined in part by the 'mill girls,' young women who were recruited to work in the mills where they earned cash wages and lived in supervised, company-owned boarding houses. They became an important voice for labor by advocating for better working conditions, supporting abolition, and embracing education….

The design depicts a mill girl working at a power loom, known as the Draper loom, with its prominent circular bobbin battery. Both are considered among the greatest innovations in machine technology and changed the experience of textile factory work." (U.S. Mint)
The Mint has a remarkably comprehensive set of free lesson plans available for the whole America the Beautiful series — you could make quite an American history course out of them. And the Mint also has a very nice simple album for this series (amzn.to/2D2A3dO) — just the thing to get some educational treasure hunting under way.
(And next up, if you want to look ahead: the American Memorial Park in the Northern Mariana Islands, scheduled for this April.)
What numismatical discoveries have you made in your homeschool this week? 😊
❡ Come, here's the map: The America the Beautiful quarters are a great tool for teaching about geography. Locate each park and each historic site in your homeschool atlas (riverhouses.org/books), and spread out your whole collection on atlas plate 35, the map of the entire United States. 🇺🇸
❡ Make it a tradition: Why not pick up an old roll of circulated quarters at the grocery store or the bank each week and invite your students to go through it around the kitchen table. A whole world of historical and geographical discovery awaits them. 💰