(Sign up for our free River Houses Newsletter! Get great homeschool teaching ideas in your mailbox each week: riverhouses.org/newsletter.) 😊
You may not think of the geography website Google Earth as a place for you and your students to learn about libraries, but this week Google Earth has a special tour available of some of the world's most wonderful libraries — you won't want to miss it.
You'll want to be at a large screen to explore these many wonderful book places: the Library of Saint Gall in Switzerland and of San Lorenzo de El Escorial in Spain, the State Library of New South Wales in Australia, the new Bibliotheca Alexandrina in Egypt, the Bodleian Library in Oxford, our own Library of Congress, and more. (Is it wrong that I want to live in all of them?) 😊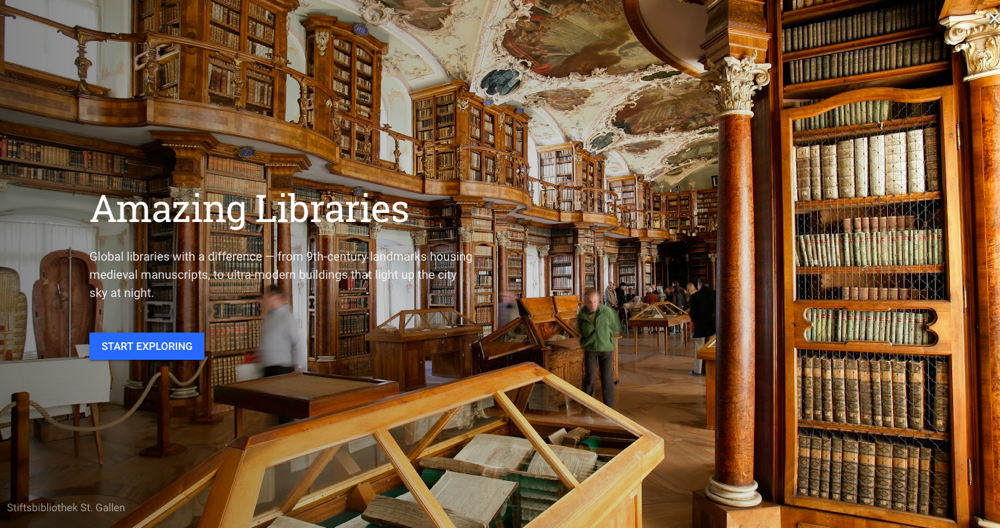 Some of the views shown are exterior, some are interior, some are 2D and some are interactive 3D, and all will introduce your students to wonderful places of learning around the world — places they might even visit someday.
What educational discoveries have you made at your library lately? 😊
❡ Explore more: Have you visited all the local libraries in your area? There may be more than you realize! The WorldCat Library Finder (worldcat.org/libraries) will help you locate all the libraries near you — public and private, large and small — and the WorldCat catalog itself (worldcat.org) will help you find the closest copy of almost any book in the world. 😊
❡ Books in the running brooks: The sidebar on the River Houses website (riverhouses.org) has links to several important online library collections that we like to explore. Why not sit yourself down at a large screen for a while (rather than a phone), and give them a browse. 😊
❡ When in doubt, go to the library: This is one of our regular Homeschool Books & Libraries posts. Add your name to our weekly mailing list (riverhouses.org/newsletter) and get great homeschool teaching ideas delivered right to your mailbox all through the year. 📚