For live links, click to: riverhouses.org/2019-wh-map
Every Wednesday we've been paying a homeschool visit to a World Heritage Site, drawn from one of our countries-of-the-week. The 2018–2019 River Houses year is coming to a close (and the 2019–2020 year will begin next month), so we're going to wrap up our current grand World Heritage tour by inviting you to order a copy of the lovely full-color World Heritage Map that's available from UNESCO for just the price of shipping (US$3.00).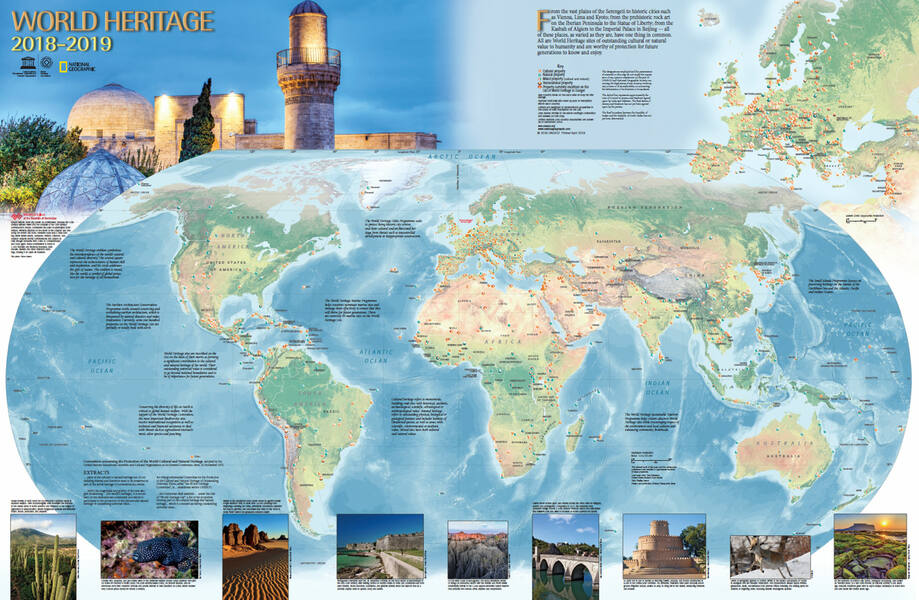 I ordered my own copy this week and will give you a report when it arrives. It sounds like just the thing for your homeschool bulletin board, and it can double as a general-purpose world wall map as well:
"This large format full-colour map features World Heritage sites and brief explanations of the World Heritage Convention and the World Heritage conservation programmes. It is available in English, French and Spanish, [and has] superb photos of World Heritage sites with explanatory captions. The dimensions of the map are 78 cm by 50 cm (31 in. by 20 in.)." (UNESCO World Heritage Centre)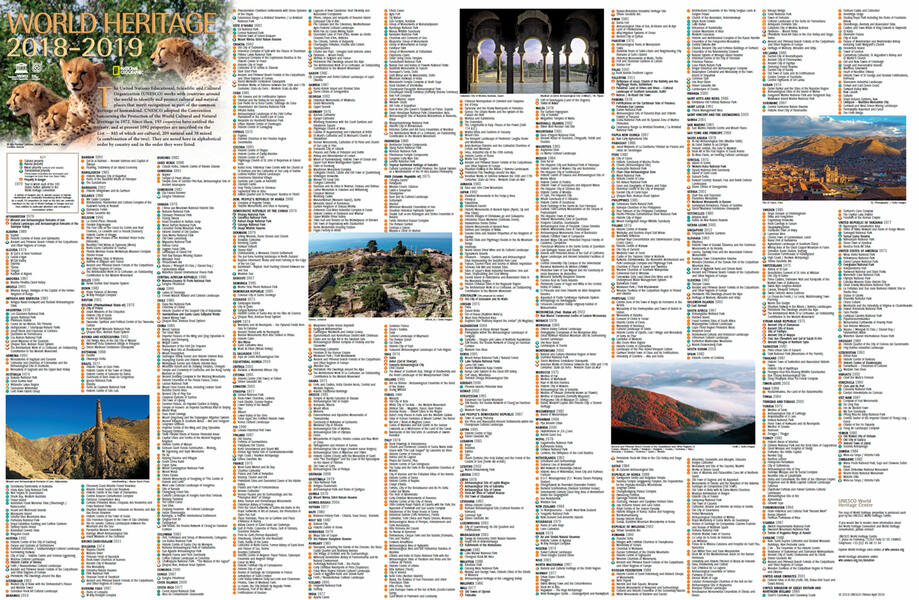 World Heritage Sites are cultural or natural landmarks of international significance, selected for recognition by the United Nations Educational, Scientific, and Cultural Organization. More than 1000 such sites have been recognized in over 160 countries, and we post one every Wednesday, drawn from one of our homeschool countries-of-the-week. You can find a complete list online at the UNESCO World Heritage Centre and in Wikipedia, and you can order your copy of the World Heritage Map right here:
We'll be starting up a new World Heritage tour next month as the new River Houses year begins. Download a copy of our printable World Heritage Calendar (riverhouses.org/calendars) and follow along with us!
What world treasures have you explored in your homeschool this week? 😊
❡ Books in the running brooks: You can always turn to your River Houses almanac, atlas, and history encyclopedia (riverhouses.org/books) for more information about any of our countries-of-the-week. The almanac has profiles of all the nations of the world on pages 745–852; the endpapers of the atlas are indexes that will show you where all of the individual national and regional maps may be found; the history encyclopedia includes national histories on pages 489–599; and you can find additional illustrations, flags, and other mentions through the indexes in each of these volumes. For an ideal little lesson, just write the name of the Weekly World Heritage Site on your homeschool bulletin board, find its location in your atlas, read UNESCO's one-paragraph description aloud, look at a picture or two, and you're done. Over the course of the year, without even realizing it, your students will absorb a wealth of new historical, geographical, and cultural information. 🗺
❡ The great globe itself: This is one of our regular Homeschool States & Countries posts. Add your name to our free weekly mailing list (riverhouses.org/newsletter) and get great homeschool teaching ideas delivered right to your mailbox all through the year. 🌎