For live links, click to: riverhouses.org/2019-transit
Did you see the Mercury transit on Monday? It was cloudy in the Nashua River valley, so our mascot Horace the Otter had to resort to his personal Internet observatory, where he watched the transit as broadcast from Norway and England: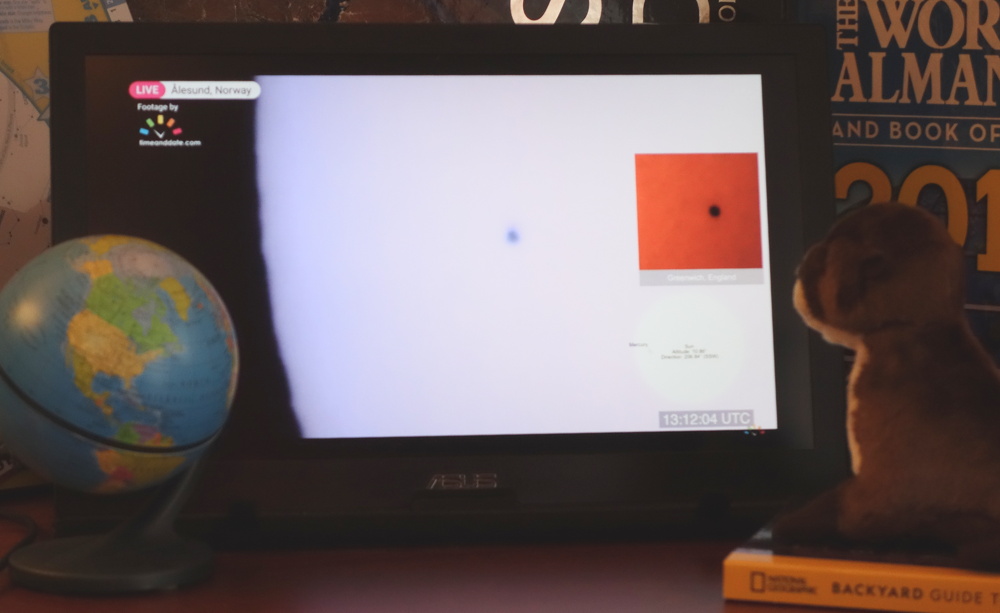 If you watched either online or in person, you might have sensed that what you were seeing was rather more blurry than you expected. That's because all terrestrial observations are made through the atmosphere, and it always introduces some fuzziness. To get really sharp celestial images you have to get up above the atmosphere. Many telescopes are placed on mountaintops for just that reason — they aren't completely outside the atmosphere, but the higher up you can get, the less air you have to look through.
For the sharpest views of all, you have to get your telescope into orbit, and that's just what NASA does with its Solar Dynamics Observatory, a special orbiting telescope that's dedicated to the study of the sun. The SDO was one of thousands of telescopes focused on the Mercury transit this week, and here's an edited collection of time-lapse clips from the observatory that have just been posted online by NASA:
The different colors are produced by the different filters that are used to study different aspects of the sun's surface and fiery atmosphere. If you have some serious astronomers in your little home academy, send them to the SDO's website for many more examples and a rich assortment of additional solar science:
What other astronomical alignments have you and your students examined in your homeschool this Cygnus Term? 😊
❡ Star bright: If you'd like some easy and comfortable homeschool astronomy lessons, download and print a copy of our annual River Houses Star Calendar (riverhouses.org/calendars) and follow along with us month by month as we make twelve heavenly friends-for-life over the course of the year. 🌟
❡ Watchers of the skies: This is one of our regular Homeschool Astronomy posts. Add your name to our River Houses mailing list (riverhouses.org/newsletter) and get great homeschool teaching ideas delivered right to your mailbox every week. 🔭