For live links, click to: riverhouses.org/2019-planner
We have a new printable weekly planner to help you and your students keep track of your schedule! You can find it permanently linked on our main River Houses calendar page along with all our regular printable calendars, and it's also available directly right here:
The planner is very simple by design: two columns on one page, each column with space for a whole week. Print it double-sided and fold it lengthwise, and you'll have a whole month on one convenient half-size sheet that you can pin to your bulletin board or keep on your desk.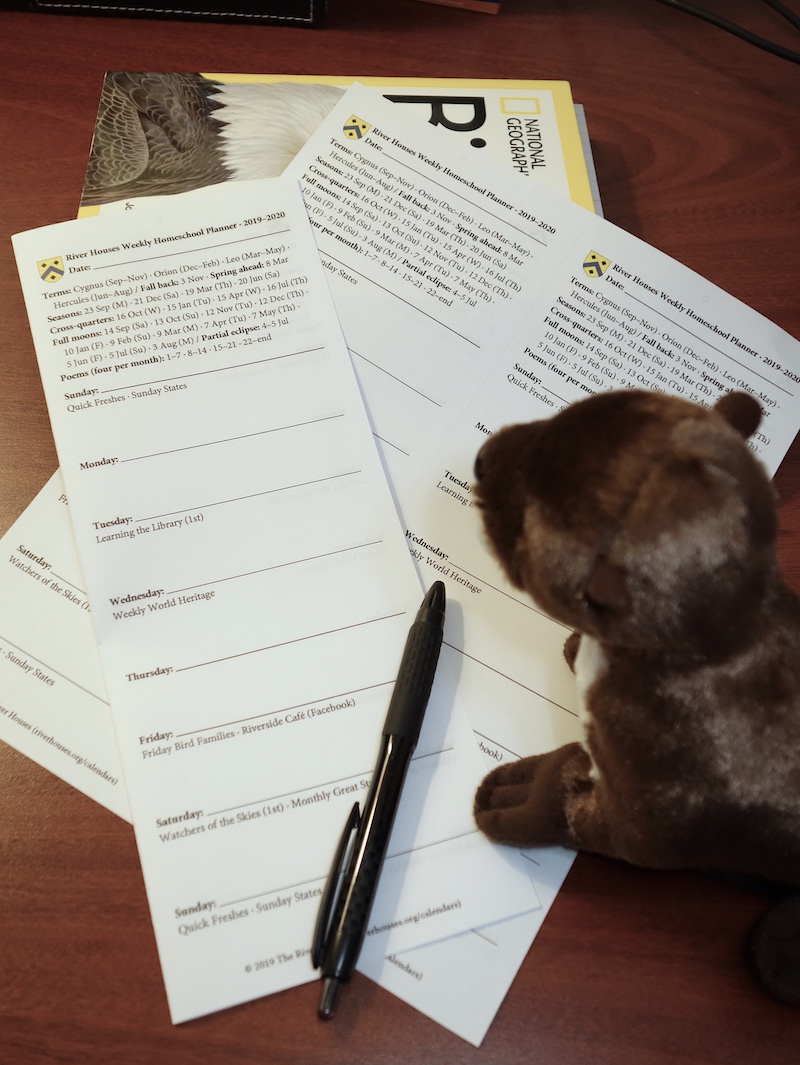 You can also use this planner for record keeping. Write down the activities and tasks your students complete each week, and drop the final filled-in sheet into a folder every month. At the end of the year you'll have a neat record of what you've done, ready to be converted into a homeschool transcript, or added to a scrapbook, or used to set up a long-term schedule for next year.
And your students can use this planner too! Get your middle school and high school students accustomed to record keeping, a basic life skill you'll want them to develop. Have them use the planner to record the number of pages they read each day, or the daily temperature at noon as a science project, or the number of birds they see each day at your backyard feeder. Years ago when I taught beginning college students, I encountered quite a few who had never had to keep a schedule of their own assignments and deadlines. You can easily help your students avoid that trap and streamline their own later schooling or work experience.
There's no perfect planner for everyone — if you schedule your day in fifteen-minute blocks, this planner may not be the one for you. But give it a try and see if you like it. If Horace the Otter likes it, you can be sure it's pretty good. 😊
What calendrical events will you be marking and what educational discoveries will you be making in your homeschool this Orion Term? 🗓
❡ Here, said the year: This is one of our occasional posts about our Homeschool Terms & Calendars (riverhouses.org/topics/calendars). Print your own set of River Houses Calendars to follow along with us, and add your name to our weekly mailing list (riverhouses.org/newsletter) to get more great homeschool teaching ideas delivered right to your mailbox all through the year. 🗞