Tomorrow is the birthday of Robert Frost (1874–1963), one of the most important American poets of the twentieth century. In his honor, our homeschool poem-of-the-week for this last week of March is Frost's early-spring gem "Nothing Gold Can Stay":
Nothing Gold Can Stay

Nature's first green is gold,
Her hardest hue to hold.
Her early leaf's a flower;
But only so an hour.
Then leaf subsides to leaf.
So Eden sank to grief,
So dawn goes down to day.
Nothing gold can stay.
This is a perfect poem for memorization. Why not memorize it yourself along with your students. (You can take turns, alternating lines.)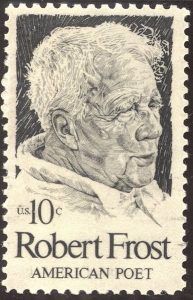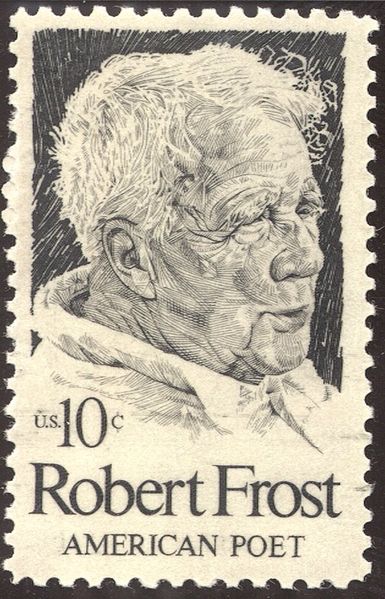 Like many of Frost's poems, "Nothing Gold Can Stay" has a simple structure and a deep meaning. Invite your students investigate the structure first. What is the rhyme scheme? We have gold–hold, flower–hour, leaf–grief, and day–stay, so I make it out as AA BB CC DD — a set of four couplets. The rhythm (meter) is a bit irregular, and I don't see a completely consistent pattern there; the lines vary from five to seven syllables. But the heavy rhyme provides a lot of structure, as does the poem's "end-stopped" character: every line is either a full sentence or a full clause, making a pause in reading at the end of each line feel natural. (In more complex poems, the sentences and other grammatical units often run over the ends of the lines; such poems are said to be "enjambed" rather than end-stopped.)
The poem's subject is early spring and the opening of the very first buds and flowers — which is why we chose it as this week's poem. In temperate climes, little golden buds and tiny yellow flowers often appear on many trees before the leaves come out, but they only last for a short time until the canopy of green foliage unrolls and expands. Frost takes this simple observation and extends it to everything in the world. All the golden buds, all the early flowers — whatever they may be — give way with time. A Christian philosopher might read that as a sign of our fallen world ("So Eden sank to grief"), while a naturalist might see it as reflection of the ordinary cycles of nature all around us ("So dawn goes down to day"). Both are perfectly acceptable literary interpretations.
As you explore your homeschool neighborhood this early spring, take special note of the earliest buds and flowers that are just beginning to open. And as you do, practice a line or two with your students: "Nature's first green is gold." "Her hardest hue to hold."
What wonderful words have you found and what literary discoveries have you made in your homeschool this week? 😊
❡ So dawn goes down to day: If a special line or turn of phrase happens to strike you in one of our weekly poems, just copy it onto your homeschool bulletin board for a few days and invite your students to speak it aloud — that's all it takes to begin a new poetical friendship and learn a few lovely words that will stay with you for life. 😊
❡ Explore more: The Poetry Foundation's website includes biographical notes and examples of the work of many important poets (including Robert Frost) that are suitable for high school students and homeschool teachers.
❡ Here, said the year: This post is one of our regular homeschool poems-of-the-week. Print your own River Houses poetry calendar (riverhouses.org/calendars) and follow along with us as we visit forty-eight of our favorite friends.