Attention all homeschool historians, geographers, artists, and treasure hunters! Here's something new for you to search for this month: the American Memorial Park "America the Beautiful" quarter from the U.S. Mint:
(Click for image: riverhouses.org/2019-marianas-quarter)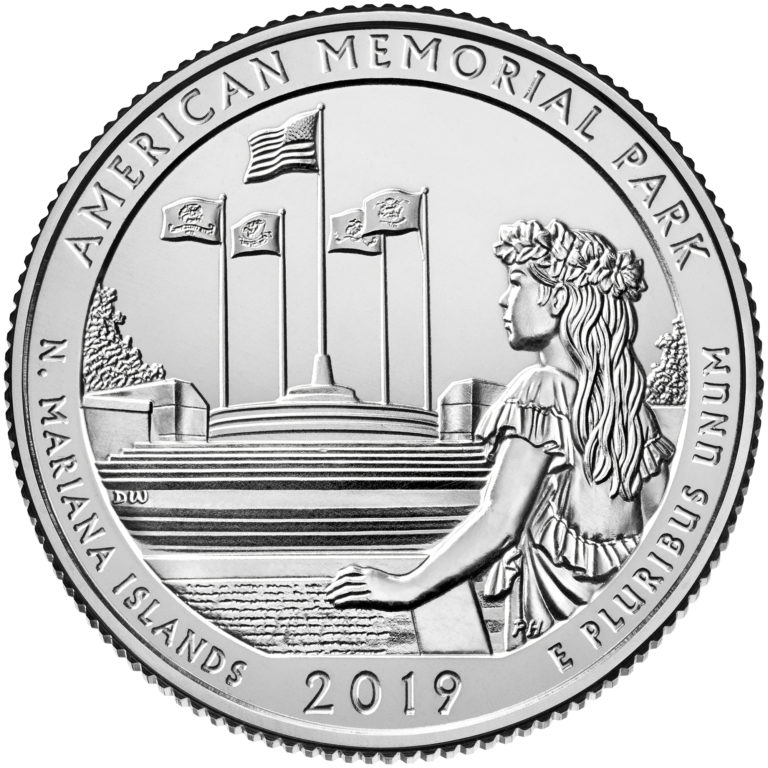 If you're looking for a fun and easy way to include some interesting geographical and historical facts in your homeschool schedule (as well as a little treasure hunting along the way), you can't do better than to keep an eye on the "America the Beautiful" quarters series. This commemorative series began in 2010 and each year five new designs are issued featuring national parks and other historic sites in the U.S. states and territories.
The latest quarter commemorates the American Memorial Park in the Northern Mariana Islands, a U.S. commonwealth in the western Pacific Ocean, and it has just gone into circulation:
"American Memorial Park in Northern Mariana Islands honors the thousands of American troops and local residents of Saipan who gave their lives during the Marianas Campaign of World War II. At the Court of Honor, the American flag is displayed at the center of the Flag Circle and surrounded by the Navy, Marine Corps, Army, and Coast Guard flags. The Court of Honor consists of 26 granite panels inscribed with the names of 5,204 service members who died.

"The design depicts a young woman in traditional attire at the front of the Flag Circle and Court of Honor. She is resting her hand on the plaque whose text honors the sacrifice of those who died in the Marianas Campaign of World War II." (U.S. Mint)
The Mint has a remarkably comprehensive set of free lesson plans available for the whole America the Beautiful series — you could make quite an American history course out of them. And the Mint also has a very nice simple album for this series (amzn.to/2D2A3dO) — just the thing to get some educational treasure hunting under way.
(And next up, if you want to look ahead: a quarter for the War in the Pacific National Historical Park in Guam, scheduled for a few weeks from now.)
What numismatical discoveries have you made in your homeschool this week? 😊
❡ Come, here's the map: The America the Beautiful quarters are a great tool for teaching about geography. Locate each park and each historic site in your homeschool atlas (riverhouses.org/books), and spread out your whole collection on atlas plate 35, the map of the entire United States. 🇺🇸
❡ Explore more: These quarters are great for teaching history, too. For an overview of the Pacific theater in World War II, turn to page 402 in your homeschool history encyclopedia (riverhouses.org/books), which also includes a map showing the location of the Northern Mariana Islands. 🇲🇵
❡ Make it a tradition: Why not pick up a roll of circulated quarters at your local grocery store or bank each week and invite your students to go through it around the kitchen table. A whole world of historical and geographical discovery awaits them. 💰