For live links, click to: riverhouses.org/2019-byron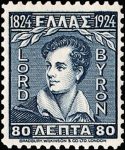 This Saturday is the 50th anniversary of the first moon landing — a momentous day in human history — so our homeschool poem-of-the-week for this grand occasion is an old lunar prophecy from Lord Byron, written in 1822 or 1823.
Byron playfully opens the tenth canto of his long satirical epic Don Juan with the self-deprecating lines below. Poets like me are nothing, Byron says, compared to geniuses like Isaac Newton and the other great scientists and inventors of the age (the 1700s and 1800s) — these men work out the laws of nature, their telescopes reveal whole new worlds, and "full soon," Byron says, their "steam-engines will conduct [mankind] to the moon."
From Don Juan (Canto X)

When Newton saw an apple fall, he found
In that slight startle from his contemplation —
'T is said (for I'll not answer above ground
For any sage's creed or calculation) —
A mode of proving that the earth turn'd round
In a most natural whirl, called 'gravitation';
And this is the sole mortal who could grapple,
Since Adam, with a fall or with an apple.

Man fell with apples, and with apples rose,
If this be true; for we must deem the mode
In which Sir Isaac Newton could disclose
Through the then unpaved stars the turnpike road,
A thing to counterbalance human woes:
For ever since immortal man hath glow'd
With all kinds of mechanics, and full soon
Steam-engines will conduct him to the moon.

And wherefore this exordium? — Why, just now,
In taking up this paltry sheet of paper,
My bosom underwent a glorious glow,
And my internal spirit cut a caper:
And though so much inferior, as I know,
To those who, by the dint of glass and vapour,
Discover stars and sail in the wind's eye,
I wish to do as much by poesy.

In the wind's eye I have sail'd, and sail; but for
The stars, I own my telescope is dim:
But at least I have shunn'd the common shore,
And leaving land far out of sight, would skim
The ocean of eternity: the roar
Of breakers has not daunted my slight, trim,
But still sea-worthy skiff; and she may float
Where ships have founder'd, as doth many a boat.
The great men are greater than Byron himself — of that he is sure — but even so, in his little boat of paper, he thinks, there are still new worlds to explore.
What new worlds have you explored and what literary discoveries have you made in your homeschool this week? 🚀
❡ Making a new friend: When you introduce your students to a new poem, especially one in a traditional form, take your time, and don't worry about "getting" everything right away. A good poem is a friend for life, and as with any friend, it takes several meetings to get acquainted. Before you even start to think about "meaning," take a look at the poem's structure. Are the lines grouped into stanzas? How many lines in each stanza? How many syllables in each line? Do the lines rhyme? What is the rhyme-scheme? Byron's Don Juan has a very regular structure that is known in Italian as ottava rima (octave rhyme) — can you and your students map it out? It's based on eight-line stanzas ("octaves") that all follow the same rhyme-scheme: ABABABCC. By uncovering these details of structure your students will come to appreciate good poems as carefully crafted pieces of literary labor. 🖋
❡ The then-unpaved stars: If a special line or turn of phrase happens to strike you in one of our weekly poems, just copy it onto your homeschool bulletin board for a few days and invite your students to speak it aloud — that's all it takes to begin a new poetical friendship and learn a few lovely words that will stay with you for life. 😊
❡ Explore more: The Poetry Foundation's website includes biographical notes and examples of the work of many important poets (including Lord Byron) that are suitable for high school students and homeschool teachers. 🖥
❡ Here, said the year: This post is one of our regular homeschool poems-of-the-week. Print your own River Houses Poetry Calendar (riverhouses.org/calendars) and follow along with us as we visit forty-eight of our favorite friends. 📖