For live links, click to: riverhouses.org/2019-august
Happy August to all our readers and friends! Here are some things to look for in the homeschool month ahead.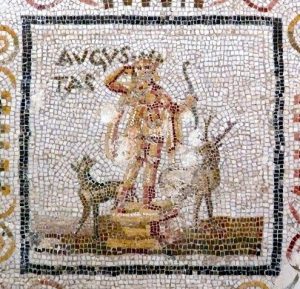 August with 31 days is the last month of Hercules Term, our summer term in the River Houses, and it's the last month of the River Houses year. Visit our main calendar page (riverhouses.org/calendars) and print out some of our simple homeschool calendars — they'll help you create a light and easy structure for your homeschool year. 🗓
The month of August was originally called Sextilis ("Sixth") back when the ancient Roman calendar considered the spring equinox in March to be the beginning of the year. (That's why next month is September, "Seventh," followed by October, "Eighth," and so on.) The sixth month was renamed August in honor of the emperor Caesar Augustus in the year 8 B.C. You can learn more about different kinds of modern and historical calendars on pages 358–364 in your River Houses almanac (riverhouses.org/books).
We'll have homeschool poems this month from Herman Melville (for his birthday), Robert Frost (for the Perseid meteor shower), Helen Hunt Jackson (for late summer), and Robert Louis Stevenson (to bring our River Houses year to a close). ✒️
Our monthly Great Star for August is Vega (alpha Lyrae), which we'll be writing about next week. Print your own copy of our River Houses Star Calendar and follow along with us as we visit twelve Great Stars of the northern hemisphere night sky and make them friends for life. 🌟
Our Sunday states-of-the-week for August — we've reached the end! — will be Alaska, Hawaii, and the U.S. Territories and Possessions (and our countries will run from Vietnam to Zimbabwe and beyond). 🇺🇸 🌏
Also coming up this month:
⬩ 12–13 August (M–Tu): The annual Perseid meteor shower! 🌠
⬩ 15 August (Th): Our monthly full-moon report from the Lunar Society (real research opportunities for homeschool students). 🌕
What calendrical events will you be marking in your homeschool this month? 😊
❡ Thirty days hath September: This is one of our occasional Homeschool Terms & Calendars posts (riverhouses.org/topics/calendars). Print your own set of River Houses Calendars (riverhouses.org/calendars) and follow along with us throughout the year. Add your name to our free mailing list (riverhouses.org/newsletter) and get great homeschool teaching ideas delivered right to your mailbox every week. 🗓