For live links, click to: riverhouses.org/2019-apod-vega
One of the best educational astronomy sites you and your homeschoolers can follow online is NASA's Astronomy Picture of the Day site (apod.nasa.gov). For several years they've been posting a daily high-quality astronomy image with a paragraph or two of explanation that outlines what the image represents. It's a great five-minute astronomy lesson that you can easily incorporate into your homeschool schedule.
You can also search back through the APOD archives to find pictures on topics that may interest you. Here in the River Houses our Great Star for the month of August is Vega, and the Perseid meteor shower just passed a few days ago, so what better image could we look up on APOD than this beautiful photo from August 2008 of the Milky Way with a Perseid streaking across it, and with Vega and its constellation Lyra, lying on its side, shining off to the right.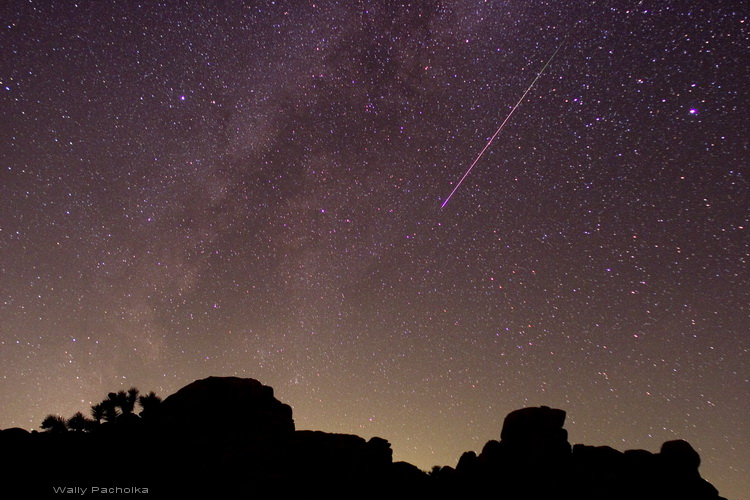 The APOD editors helpfully explain what we're looking at:
"This bright and colorful meteor flashed through [the] early morning skies, part of the annual Perseid Meteor Shower. The lovely image is one of over 350 frames captured on August 12 [2008] from the Joshua Tree National Park, in California, USA. Dust from comet Swift–Tuttle is responsible for the Perseids, creating the northern hemisphere's regular summer sky show. The comet dust is vaporized as it enters the atmosphere at upwards of 60 kilometers per second, producing visible trails that begin at altitudes of around 100 kilometers. Of course, the trails point back to a radiant point in the constellation Perseus, giving the meteor shower its name. Recorded after moonset, the starry background features the bright star Vega on the right. Extending below the western horizon is the faint band of the northern Milky Way." (apod.nasa.gov)
Why not add apod.nasa.gov to your list of homeschool science bookmarks and pay it a visit whenever the stargazing spirit strikes you. 🔭
What stellar spectacles are you studying in your homeschool this week? 😊
❡ Watchers of the skies: This is one of our regular Homeschool Astronomy posts. Add your name to our free weekly mailing list (riverhouses.org/newsletter) and get great homeschool teaching ideas delivered right to your mailbox all through the year. 🗞