For live links, click to: riverhouses.org/2019-almanac-2020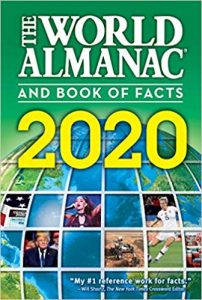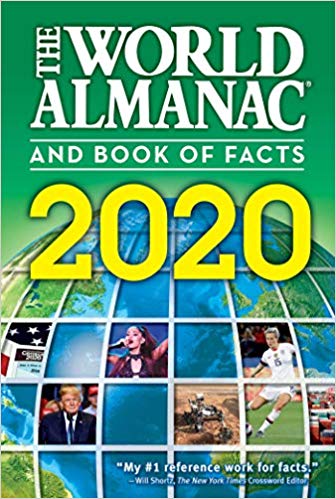 Here at the River Houses we recommend six standard reference books for every homeschooling family — not children's books but family books that can serve both parents and students, that can support any curriculum you choose to follow, and that can help to make you a better teacher. Five of these books are permanent additions to your library that should last for many years, but the sixth is one that needs to be periodically renewed: the annual World Almanac and Book of Facts, available shortly in its 2020 edition:
The annual World Almanac, published for more than 150 years, makes an ideal Christmas or New Year's gift for your students. I just ordered my copy yesterday and it's expected to arrive right before the holidays.
Modern almanacs are really one-volume desk encyclopedias, packed with information about everything from science and technology (did you know the top speed of a reindeer is 32 miles per hour?), to world history and geography (did you know the average depth of the Indian Ocean is 12,800 feet?), to artists, entertainers, and notable personalities (did you know Robert Penn Warren was the first Poet Laureate of the United States?), and much, much more.
If you have a fact-devouring student — and many students go through a fact-devouring stage — there's no better entertainment than the annual World Almanac. (Did you know the island-nation of Tuvalu has a population of only 11,147?) And for general reference questions on almost any subject, the World Almanac is usually the best place to start. (Did you know Kalamazoo College in Michigan was founded in 1833?)
To get the most out of your almanac, notice that the major sections are marked with black tabs along the book's fore-edge, and that these tabs are labeled on the back cover: "Special Features, Year in Review," "Economy, Business, Energy," "Health & Vital Statistics," and so on. (That's from the 2019 edition.) And while open-ended browsing of the almanac can be endlessly interesting, be sure that your students also know how to use the comprehensive alphabetical index at the end of the volume when they are trying to locate a specific piece of information.
We regularly refer to material from the World Almanac and Book of Facts in our River Houses postings, and starting in January our page references will change over from the 2019 edition to the 2020 edition. Add a new 2020 almanac to your homeschool library and join us as we teach and learn our way through the new year.
❡ Nota bene: The World Almanac and Book of Facts is available in both paperback and hardcover editions. The paperback is less expensive, but it's also reduced in size making the type exceedingly small for grownup eyes, although your young scholars may have no trouble with it. I always use the hardcover edition.
❡ Stay in the loop: This is one of our regular Homeschool Books & Libraries posts. Add your name to our free weekly mailing list (riverhouses.org/newsletter) and get great homeschool teaching ideas delivered right to your mailbox all through the year. 🗞