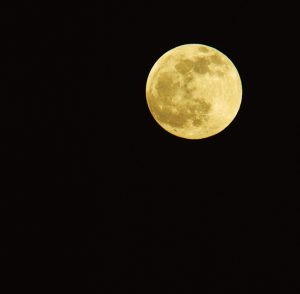 Last night was the night of a full moon, and that means it's time for a report from the Lunar Society of the River Houses.
The Lunar Society is one of our big and wonderful long-term plans to encourage homeschoolers to participate in real online research projects and share their results with other homeschool families. Here's an outline of the idea, along with a list of some of the great projects that homeschool students (and their parents) can join and contribute to, from history to geography to physics to natural history to mathematics to meteorology to literature to galactic exploration:
Browse through that project list and find one that would be a good fit for your family. Before you know it, your students will be learning a host of valuable skills and your little home academy will be on its way to becoming an international research powerhouse. 🔬 🔭 🖥 🦋 🔍 ⚗️ ⛏ 📖 🌲 😊
Over time, it's my hope that these monthly reports about the Lunar Society will evolve into something like a forum where homeschoolers participating in online research can share their achievements.
As a simple example, here's my own personal report for the past month on the two types of projects I participate in: eBird monitoring of bird populations, and distributed computing research using the Berkeley open infrastructure application. You and your students can participate in these projects (and many others) too.
On the eBird website (eBird.org), sponsored by Cornell University, I've been tracking the birds in a small riverside park near me (eBird hotspot L6926932), and since our last Lunar Society report I've added 21 new checklists (daily observation reports), bringing my total for that locality to 356. When all the checklists are combined you can really see the seasonal distribution and migration chart for the year develop. By the end of next month I will have completed a full year's monitoring of this one small park.

You can start keeping a similar list for a location near you — your backyard, or a local park or other natural area. (Helping to track a public park or eBird "hotspot" will let you generate more interesting results.) You can even add photos and sound recordings to your reports if you wish. Just pay a visit to the eBird website (ebird.org) and start exploring. Note that the Great Backyard Bird Count, coming up in February, is an associated project and a great way to get started.
Distributed computing projects use idle time on your computer to perform scientific calculations on various kinds of complex data. The most popular distributed computing projects run on the Berkeley Open Infrastructure for Network Computing platform (BOINC), and I contribute computer time to three of these: (1) the SETI@Home project, sponsored by the University of California, which searches for extraterrestrial intelligence (really!); (2) the Einstein@Home project, which studies neutron stars; and (3) the MilkyWay@Home project, which studies the history and structure of our galaxy.
I've created River Houses team pages for each of these projects (Einstein@Home team, MilkyWay@Home team, SETI@Home team). Once your computer is signed up to participate, you can print "certificates of computation" that show how much data you've individually analyzed and how much your team has analyzed — they're just the thing for your homeschool bulletin board. 😊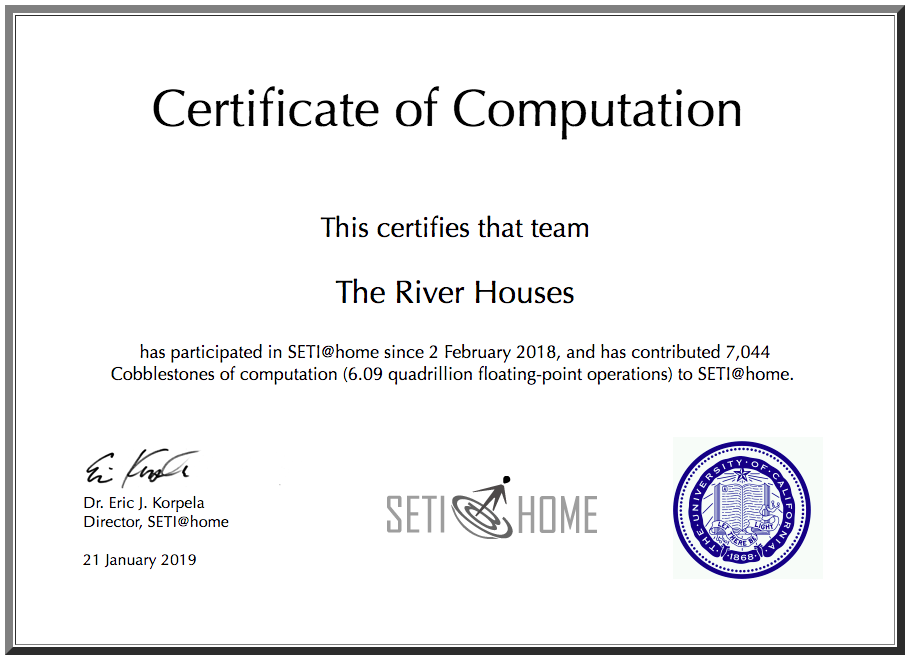 And here's another level of skill development for your high-school (or even advanced middle-school) students: once you've processed a few weeks or months of data, you can start graphing your contributions. Using Google Sheets, I've set up a simple chart of River Houses team results, and this is what it looks like:
That's just a simple graphing exercise — it's something that we can refine, develop, and expand in the future. (And your students can develop their own individual charts as well.)
The Internet provides exceptional opportunities for homeschool students to participate in real research projects in a variety of scientific and scholarly fields, something that would have been impossible only a few years ago. Pay a visit to our Lunar Society page to read about many more projects that your family can join.
What scholarly and scientific discoveries have you made in your homeschool this month? 😊
❡ Calling all photographers: If you've got a budding photographer in your homeschool, one group project you can participate in is the Wikimedia Commons Photo Challenge. A different theme is chosen each month; just sign up and follow the instructions to submit your own entries. Once you're a registered participant you can also vote for each month's winners. 📸
❡ Books in the running brooks: If you decide to participate in eBird, our recommended homeschool reference library (riverhouses.org/books) includes an excellent bird guide that would serve your family well. And for any astronomical projects you may join, our recommended star atlas will help you orient yourself to the objects you are studying in the starry vault above. 🦉 🌠
❡ Whether they work together or apart: This is one of our regular Lunar Society Bulletins about the many cooperative research projects we recommend to homeschool students. Add your name to our free weekly mailing list (riverhouses.org/newsletter) and get more great homeschool teaching ideas delivered right to your mailbox all through the year. 🗞