It's just past three o'clock, and it's cold and frosty this morning in the Nashua River valley. Good morrow, home school-masters and school-mistresses all!
December is Holiday Music Month in the River Houses, and throughout the month we'll be sharing an assortment of our seasonal favorites — classical and modern, sacred and secular, serious and silly — along with a smattering of educational notes that will help you teach little lessons all along the way.
Our sprightly inaugural carol for the month, like many traditional pieces of Christmas music, has quite a few different roots. The tune and the non-holiday refrain — Past three o'clock … Good morrow, masters all! — have been traced to at least the 1600s, while the specific Christmas verses that tell the biblical story of the Nativity were composed in the early twentieth century by George Ratcliffe Woodward (1848–1934). (Homeschool lesson: although some pieces of music, like some works of literature, are the product of a single author writing at a single time, others are composite works that have grown and changed in different ways over many generations, as we see with true folk songs, ancient epics, and many traditional Christmas carols.)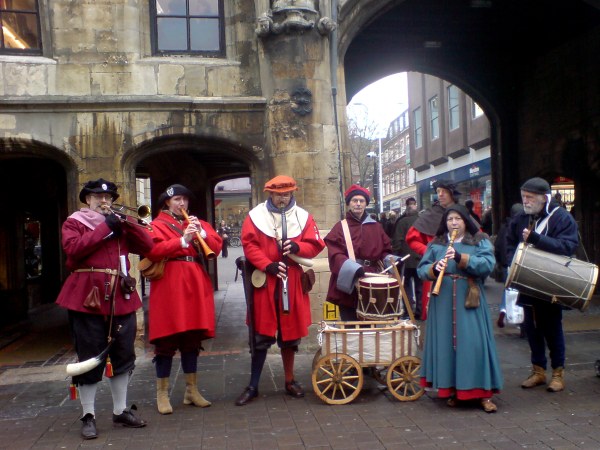 The refrain of "Past Three O'Clock" is based on the night-time call of the waits — the traditional night-watchmen/town-musicians that existed in many English towns as far back as the Middle Ages. The waits would walk the town at night calling or piping out the hour, and their role grew to include minstrelsy and performances at local musical events. The International Guild of Town Pipers (townwaits.org.uk) keeps alive the tradition of the waits today.
Past three o'clock,
And a cold frosty morning,
Past three o'clock;
Good morrow, masters all!

Born is a Baby,
Gentle as may be,
Son of the eternal
Father supernal. (Refrain.)

Seraph quire singeth,
Angel bell ringeth;
Hark how they rime it,
Time it and chime it. (Refrain.)

Mid-earth rejoices
Hearing such voices
Ne'ertofore so well
Carolling Nowell. (Refrain.)

Hinds o'er the pearly,
Dewy lawn early
Seek the high Stranger
Laid in the manger. (Refrain.)

Cheese from the dairy
Bring they for Mary
And, not for money,
Butter and honey. (Refrain.)

Light out of star-land
Leadeth from far land
Princes, to meet him,
Worship and greet him. (Refrain.)

Myrrh from full coffer,
Incense they offer;
Nor is the golden
Nugget withholden. (Refrain.)

Thus they: I pray you,
Up, sirs, nor stay you
Till ye confess him
Likewise and bless him. (Refrain.)
If you want to put together your own homeschool performance of "Past Three O'Clock" this Christmas season, you can find the sheet music at hymnsandcarolsofchristmas.com. With practice and luck, you might sound as good as the talented Girl Choir of South Florida in this performance from 2011:
What musical discoveries will you be making in your homeschool this month? 😊