Quick Freshes are our regular Sunday notes on the homeschool week ahead. Pick one or two (or more) of the items below each week and use them to enrich your homeschooling schedule!
🇺🇸 OUR STATE-OF-THE-WEEK is Utah, and our COUNTRIES are Tonga 🇹🇴, Trinidad and Tobago 🇹🇹, Tunisia 🇹🇳, and Turkey 🇹🇷. (Our separate Sunday States & Countries post will be up shortly.)
❡ Did you know…?  You can teach a hundred little lessons with our "Quick Freshes" posts each week by just dropping questions into your daily conversations with your students and inviting them to discover more. For example: "Did you know that the modern nation of Turkey contains some of the world's most famous archaeological sites?" You can find a facts-and-figures outline of Turkey, one of our countries of the week, on page 843 in your River Houses almanac and on plate 140 in your atlas, with a map of the country on atlas plate 78 (riverhouses.org/books).
🌘 THE MOON at the beginning of this week is waning crescent — an increasingly good time for stargazing! Track the moon's phases each month at timeanddate.com/moon/phases, and dial up this week's constellations with your River Houses star atlas (riverhouses.org/books).
🗓 TODAY (Sunday, 8 July) — Today is the 189th day of 2018; there are 176 days remaining in the year. Learn more about different kinds of modern and historical calendars on pages 351–357 in your River Houses almanac (riverhouses.org/books). ⬩ Today is also the birthday of the Australian-American composer and pianist Percy Grainger (1882–1961).
MONDAY (9 July) — On this day in 1755, a British-American force under the command of General Edward Braddock was defeated and almost destroyed as they fought to capture Fort Duquesne (modern-day Pittsburgh, Pennsylvania) from its French and Indian defenders. We remember "Braddock's Defeat" today mainly because of an effective rear-guard defense that saved many lives — a defense led by a 23-year-old colonial colonel named George Washington.
TUESDAY (10 July) — The highest temperature ever recorded on earth, 134ºF (57ºC), was reached on this day in 1913 in Death Valley, California. ⬩ Today is the birthday of the French-Swiss theologian and religious reformer John Calvin (1509–1564), one of the key figures of the Protestant Reformation. ⬩ On this day in 1962, the world's first communications satellite, Telstar, was launched into earth orbit.
WEDNESDAY (11 July) — On this day in 1804, Aaron Burr, Vice President of the United States, mortally wounded Alexander Hamilton, former Secretary of the Treasury, in a pistol duel in Weehawken, New Jersey. Hamilton died the next day. ⬩ Today is also the birthday of the English physician Thomas Bowdler (1754–1825), whose family editions of Shakespeare, lightly expurgated so they would be suitable for reading aloud to women and children in the home, gave us the English word "bowdlerize."
THURSDAY (12 July) — Today is the birthday of the great American writer, philosopher, and naturalist Henry David Thoreau (1817–1862). ⬩ It's also the birthday of the American artist Andrew Wyeth (1917–2009).
FRIDAY (13 July) — It's Friday the 13th! 😮 Today is the generally accepted birthdate of the ancient Roman politician, general, and dictator Julius Caesar (100–44 B.C.). ⬩ It's also the birthday of the great English poet John Clare (1793–1864).
SATURDAY (14 July) — Today is the birthday of the celebrated composer Gerald Finzi (1901–1956), known for his musical settings of many classic English lyric poems. ⬩ The interplanetary space probe New Horizons made its closest approach to Pluto (less than 8000 miles from the surface) on this day in 2015.
🥂 YOUR WEEKLY TOAST: "May hard labor secure strong health."
❡ Toasts are a fun tradition for your family table. We offer one each week — you can take it up, or make up one of your own ("To North American dinosaurs!"), or invite a different person to come up with one for each meal ("To variety in toasting!"). Our current examples are adapted from two old collections: Marchant's "Toasts and sentiments" (1888) and the anonymous Social and Convivial Toast-Master (1841). What will you toast this week?
🌎 EVERYTHING FLOWS: Turkey is one of our countries-of-the-week, so our Weekly World River is the Büyük Menderes River, better known as the Maeander or Meander River, from which is derived the English word "meander." You can chart its course in your River Houses atlas (riverhouses.org/books), and you can read much more about it in the Büyük Menderes River entry in Wikipedia, or perhaps on your next visit to your local library.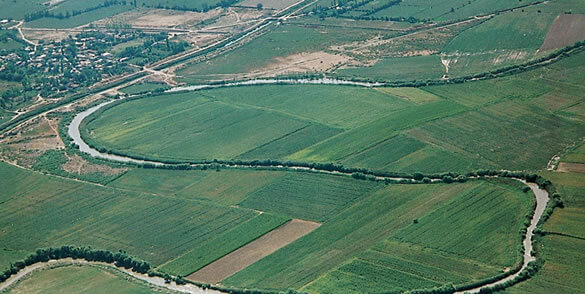 ❡ Let the river run: Why not do a homeschool study of world rivers over the course of the year? Take the one we select each week (above), or start with the river lists in your almanac (pages 691–692), and make it a project to look them all up in your atlas, or in a handy encyclopedia either online or on a weekly visit to your local library. A whole world of geographical learning awaits you.
What do you have planned for the homeschool week ahead? 😊