Click to: riverhouses.org/2002-mauritius
Sign up: riverhouses.org/newsletter
The island-nation of Mauritius in the Indian Ocean is one of our homeschool countries-of-the-week, so why not spend a few minutes today learning about one of Mauritius' World Heritage Sites: the remains of the historic Aapravasi Ghat ("Immigration Depot" in Hindi).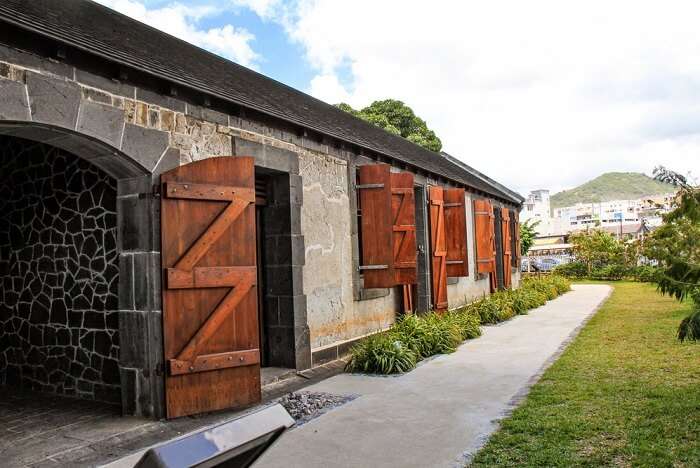 The Aapravasi Ghat was a focal point of labor migration in the nineteenth century, and it holds a place in the historical imagination similar in some ways to Ellis Island in the United States. Tens of thousands of people from around the borders of the Indian Ocean passed through this facility in hope of finding a better life.
"Located on the bay of Trou Fanfaron, in the capital of Port-Louis, the Aapravasi Ghat is the remains of an immigration depot, the site from where the modern indentured labour diaspora emerged. The depot was built in 1849 to receive indentured labourers from India, Eastern Africa, Madagascar, China and Southeast Asia to work on the island's sugar estates as part of the 'Great Experiment'. This experiment was initiated by the British Government, after the abolition of slavery in the British Empire in 1834, to demonstrate the superiority of 'free' over slave labour in its plantation colonies. The success of the 'Great Experiment' in Mauritius led to its adoption by other colonial powers from the 1840s, resulting in a world-wide migration of more than two million indentured labourers, of which Mauritius received almost half a million.

"The buildings of Aapravasi Ghat are among the earliest explicit manifestations of what would become a global economic system. The Aapravasi Ghat site stands as a major historic testimony of indenture in the 19th century and is the sole surviving example of this unique modern diaspora. It represents not only the development of the modern system of contractual labour, but also the memories, traditions and values that these men, women and children carried with them when they left their countries of origin to work in foreign lands and subsequently bequeathed to their millions of descendants for whom the site holds great symbolic meaning." (UNESCO World Heritage Centre #1227)
World Heritage Sites are cultural or natural landmarks of international significance, selected for recognition by the United Nations Educational, Scientific, and Cultural Organization. More than 1000 such sites have been recognized in over 160 countries, and we feature one every Wednesday, drawn from one of our homeschool countries-of-the-week. You can find a complete list online at the UNESCO World Heritage Centre and in Wikipedia.
The World Heritage Centre also has a free and comprehensive World Heritage education kit for teachers, as well as a wonderful full-color wall map of World Heritage Sites (riverhouses.org/2019-wh-map), available for the cost of shipping. Why not add them both to your own homeschool library. 🗺
What world treasures are you exploring in your homeschool this Leo Term? 😊
❡ Books in the running brooks: You can always turn to your River Houses almanac, atlas, and history encyclopedia (riverhouses.org/books) for more information about any of our countries-of-the-week. The almanac has profiles of all the nations of the world on pages 745–852; the endpapers of the atlas are indexes that will show you where all of the individual national and regional maps may be found; the history encyclopedia includes national histories on pages 489–599; and you can find additional illustrations, flags, and other mentions through the indexes in each of these volumes. For an ideal little lesson, just write the name of the Weekly World Heritage Site on your homeschool bulletin board, find its location in your atlas, read the WHC's brief description aloud, look at a picture or two, and you're done. Over the course of the year, without even realizing it, your students will absorb a wealth of new historical, geographical, and cultural information. 🇲🇺
❡ The great globe itself: This is one of our regular Homeschool States & Countries posts featuring historical and natural sites of international importance. Download a copy of our River Houses World Heritage Calendar (riverhouses.org/calendars) and follow along with us as we tour the planet, and add your name to our weekly mailing list (riverhouses.org/newsletter) to get great homeschool teaching ideas delivered right to your mailbox all through the year. 🌍